Handbell with wooden handle and without engraving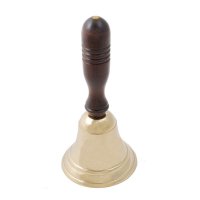 Product description:
Handbells are versatile, such as at meetings, for example. If they are rung, everyone knows: It is time to get started. You will have the attention of all those present right away - given the clear chime of these handbells. They are made of brass and have a handle made of dark wood, which lies comfortably in the hand and facilitates the ringing. You can optionally order these bells with a diameter of 9 or 12 cm and 20 or 25 cm in height.
Shipping costs
Denmark (12.00 EUR)
Italy (15.00 EUR)
Luxembourg (12.00 EUR)
Netherlands (12.00 EUR)
Poland (15.00 EUR)
Portugal (15.00 EUR)
Spain (15.00 EUR)
Sweden (15.00 EUR)
Switzerland (29.75 EUR)
---
Methods of payment
Prepayment via bank transfer
Paypal
Credit card
---
Available in different designs

Article number: #
2261
Handbell with 9cm Ø, height 20 cm

Ready for dispatch within 24h
(excl. VAT: 20.84 EUR)
Shipping weight: 1.00 Kg
---

Article number: #
2262
Handbell with 12cm Ø, height 25 cm

Ready for dispatch within 24h
(excl. VAT: 33.53 EUR)
Shipping weight: 1.50 Kg