Brass bell without engraving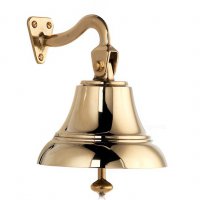 Product description:
Our brass bells can also be ordered without an engraving as a decoration for your own home, for example. The shape of the ship's bell is classic and therefore complements any interior, which thus benefits from a maritime flair. Opt for one of seven sizes: Are you interested in a small ship's bell with a diameter of 5 cm or do you prefer a brass bell with an 18-cm diameter? In any case, in addition to a mount, which is fastened on the wall with three screws, a hemp rope is also included. It makes for a nice bell chime when ringing the bell.
Shipping costs
Denmark (12.00 EUR)
Italy (15.00 EUR)
Luxembourg (12.00 EUR)
Netherlands (12.00 EUR)
Poland (15.00 EUR)
Portugal (15.00 EUR)
Spain (15.00 EUR)
Sweden (15.00 EUR)
Switzerland (29.75 EUR)
---
Methods of payment
Prepayment via bank transfer
Paypal
Credit card
---
Available in different designs