Brass bell on wooden plate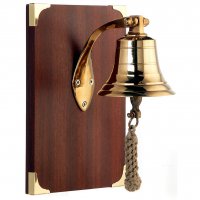 Product description:
Brass bells are even more appealing when they are mounted to a beautiful wooden plate - an eye-catcher on every wall. Brown wood and golden brass harmonise wonderfully and, in turn, this ship's bell is one of the most popular items in our online shop. The corners of the 17 x 24 cm large wooden panel are framed in brass and the mount is also made of this material. The bell itself has a diameter of 10 or 12.5 cm. A lanyard is also included, because only then can the bell be used. Its clear chime bewitches every ear.
Shipping costs
Denmark (12.00 EUR)
Italy (15.00 EUR)
Luxembourg (12.00 EUR)
Netherlands (12.00 EUR)
Poland (15.00 EUR)
Portugal (15.00 EUR)
Spain (15.00 EUR)
Sweden (15.00 EUR)
Switzerland (29.75 EUR)
---
Methods of payment
Prepayment via bank transfer
Paypal
Credit card
---
Available in different designs